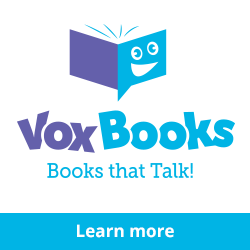 Print book, meet audio book. VOX Books are the world's first audio books that live in print books. The permanently attached VOX Reader transforms an ordinary print book into an all-in-one read-along. There's no need for computers, tablets or CDs. Children simply push a button to listen and read.
VOX Books combine outstanding picture books and non-fiction with audio recordings that capture children's attention and make learning and literacy development fun!
We're starting out with 75 VOX Books, so check one out today! To put one on hold, search for VOX Books on our online catalog, or try this quick link!