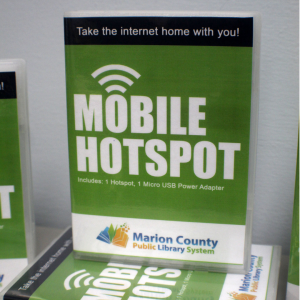 The Marion County Public Library System is making it possible for more Marion County households to have internet access at home by having WiFi hotspots available for check out! These mobile hot spots will circulate as 14 day rentals (no renewals), FREE with your Marion County Public Library System Library card!
We have 20 Sprint mobile hotspots, which are housed at the Marion County Public Library (Fairmont), the Fairview Public Library, and the Mannington Public Library when they are not in use. Each kit contains a hotspot device, Micro USB charger, and simple instructions.
You can place a mobile hotspot on hold by calling your branch, through the Marion County Public Library mobile app (available on Google Play and the Apple Store), by visiting mcpls.org and selecting the "search the collection" button, or by CLICKING HERE. One device per family at a time. Free WiFi is also available inside all of our branches during business hours, or 24 hours a day using the state of West Virginia's Kids Connect program.
What is a Mobile Hotspot?
A hotspot is an area where a user can access the Internet via WiFi. A mobile hotspot device enables users to connect to the Internet using a small box with a cell phone data plan that they can bring with them wherever they go. Similar to a data plan for a cell phone as long as the device can connect to the cell tower, users can access the Internet. The device itself emits a Wi-Fi signal that users can connect their personal devices to, like a laptop, tablet, or smart phone, in order to use the Internet.
Library card Sign Up
If you don't yet have a MCPLS library card, you can either stop by one of our branches with your State of WV photo ID for instant access, or fill out a library card application through the Marion County Public Library mobile app. Applications received through the mobile app will be processed virtually and a library card will be mailed to your home.