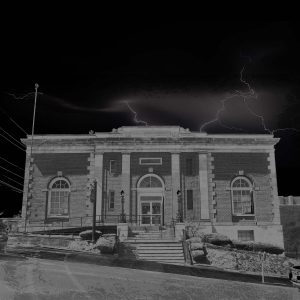 When the lights go down and the library doors are locked, all isn't as quiet as one may think. Whispers in the darkness, unexplained sights and sounds may appear. On October 18th the Marion County Public Library is opening their doors for a unique Halloween event experience.
You may encounter the ghost of Gertrude McKnight, a devoted strict librarian with an aversion to noise. Legend has it that you can hear her notorious shush and her anger at any unwanted noises.
Friday the 18th also marks the anniversary of the death of Clankers the Clown. Clankers was performing in the children's room in the early 1950's when a kid hurled a spit ball at Clankers. The spit ball caused him to lose his balance and collide with a shelf that unfortunately broke loose and crushed Clankers. On this night it is said that Clankers returns to finish his performance and seek revenge on the child who caused his untimely death. Will Clankers make a special appearance this night? Do you dare enter a 108 year old building with a lifetime of hauntings?
One night only- HAUNTED LIBRARY!
You can register for a time slot to skip the rush! When the clock strikes midnight at October 1, you'll be able to register for a "fast pass" style ticket for this spooky event (see links below to register)! We will still accept walk ins at the door.
Disclaimer: Haunted library is a walk through haunted attraction and not suitable for young children. Haunted Library will include stairs, strobe lights, black lights, loud noises, water based fog, and periods of complete darkness. Please DO NOT attend if you have any type of health concerns, issues, or have physical difficulties. You assume all risk by entering the Haunted Library. A separate, kid friendly event will be held on October 25.
Time Slot Registration
Register your group members for one of these time slots to be sure you'll make it through! We will also accept walk-ins, but walk-ins can not be guaranteed a specific time slot. Registration for these slots begins when the clock strikes midnight on October 1st!
Haunted Library Trailers… watch if you dare!