For Over Fifty Years Someone Got Away with Murder
Some said the killer couldn't be a local. Others claimed he was the wealthy son of a prominent Morgantown family. Whispers spread that Mared and Karen were sacrificed by a satanic cult or the victims of a madman. Then the handwritten letters began to arrive: "You will locate the bodies of the girls covered over with brush— look carefully. The animals are now on the move."
Investigators didn't find too few suspects—they had far too many. There was the campus janitor with a fur fetish, the "harmless" deliveryman who beat a woman nearly to death, the nursing home orderly with the bloody broomstick and the bouncer with the "girlish" laugh who threatened to cut off people's heads. Local authors Geoffrey C. Fuller and S. James McLaughlin tell the complete story of the murders for the first time.
"With previously unknown details, The WVU Coed Murders is a page-turning murder mystery." —Hoppy Kercheval, host, Talkline
Join us on Saturday, December 11 at 12:00PM at the Marion County Public Library (Fairmont) for a Q&A and book signing with the authors of the new book, The WVU Coed Murders.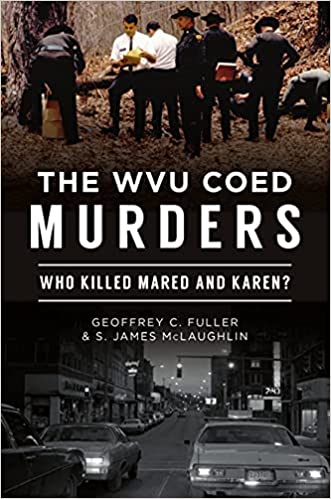 About the Authors
Geoffrey C. Fuller has written for literary and commercial magazines and contributed to twenty-five fiction and nonfiction books. He is the author of the novel Full Bone Moon and the true crime books Pretty Little Killers and The Savage Murder of Skylar Neese (a New York Times bestseller).
S. James McLaughlin is a podcast producer of Appalachian Mysteria. Written and produced in West Virginia, the series covers unresolved cases in Appalachia. McLaughlin studied journalism at West Virginia University and graduated with a degree in graphics technology from Fairmont State University.