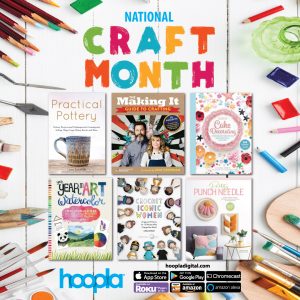 March is National Craft Month, and MCPLS has a plethora of resources to suit all of your crafty needs! We have hundreds of craft books in our collection, both in print and available on hoopla digital!
Read on for more information!
Our Collection
Hoopla Digital
Hoopla digital offers thousands of eBooks, audiobooks, movies, music, and more! Celebrate National Craft Month by checking out their varied collection of eBooks about everything from how to Crochet Iconic Women, Cross-Stitch the Golden Girls, or even learn how to hand carve kitchen utensils! Click here to get started, or download the hoopla digital app today.
Creativebug
Join Creativebug to learn everything from watercolor painting to crochet to how to make hand and body salve! There is even a new STEAM series for kids where they can learn how to make things like crystal yetis or animatronic owls!
Creativebug offers an all-access, no-boundaries pass to explore 1000+ craft classes. People of all skill levels can work alongside instructors to learn craft techniques, FREE with your library card! New videos are added every day.
Scholastic Teachables
You can also find crafts and projects for kids on Scholastic Teachables! They have printables for pre-K through 8th grade, including cut and paste crafts, project instructions, and even free coloring pages. Each downloads as a PDF for easy printing!