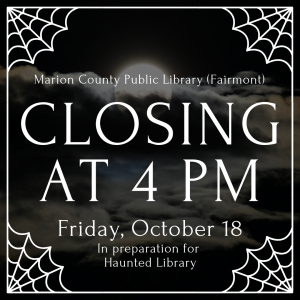 The Marion County Public Library will be closing at 4 pm on Friday, October 18 to prepare for Haunted Library!
Haunted Library is a staged, haunted attraction at the Marion County Public Library in Fairmont. For more information about Haunted Library, click here.
—–
We may be closed, but our digital collection is always open!⁠
⁠
Check out www.mcpls.org/streaming today to explore options for eBooks, audiobooks, movies, TV shows, streaming music, MP3 downloads, magazines, and more click here.
⁠
www.mcpls.org/education is where we keep links for craft classes (Creativebug), language learning, law forms, and music classes, as well as as scholarly options.⁠