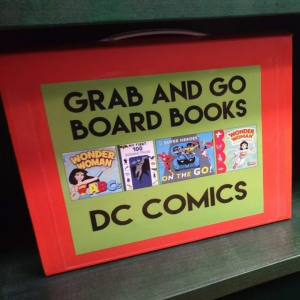 Prepackaged sets of 4 themed board books!

MCPLS Board Book Boxes are convenient sets of themed board books that you can grab and go! We have the lists separated by location in case you need them same day, but you can pick up our Board Book Boxes at any of our branches, at the Clarksburg-Harrison Public Library, or at the Bridgeport Public Library!
Please note that due to their size, Board Book Boxes cannot be picked up at the White Hall Express. Click a heading below to put that Board Book Box on hold (putting one of the books on hold will still give you the whole box).
Housed in Fairview:
Dads: I Love My Daddy Because… by Laurel Porter-Gaylord, I Love My Daddy by Sebastien Braun, The Best Daddy in the World by Eleni Zabini, The Very Best Daddy of All by Marion Dane Bauer
Dogs: Spot Goes to the Farm by Eric Hill, Find Spot at the Museum by Eric Hill, Go, Dog. Go! by P.D. Eastman, Dog Comes Too by Hazel Hutchins and Gosia Mosz
Farm Animals: Baby Touch and Feel Farm Animals, My First Touch and Feel Farm, The Chicks in the Barn by Aly Fronis, Who Am I? Farm Animals
Heroes #1: Superman Colors, DC Super Heroes Opposites, Batman Shapes, Batman is Brave
Heroes #2: My First Book of Girl Power, Wonder Woman: A Word Adventure, Busy Bodies, Catwoman Counting
Moms: I Love My Mommy Because… by Laurel Porter-Gaylord, I Love My Mommy by Sebastien Braun, Fawn and Her Family, Mommy Snuggles by Anne Gutman and Georg Hallensleben
Race Cars: Race Car Count by Rebecca Kai Dotlich, Ready, Set, Go! by Shannon Chandler, Five Cars Stuck and One Big Truck by David A. Carter, Cars by Charles Reasoner
Trains: The Little Engine That Could, The Goodnight Train by June Sobel, Freight Train by Donald Crews, Train Man by Andrea Zimmerman and David Clemesha
Housed in Fairmont: