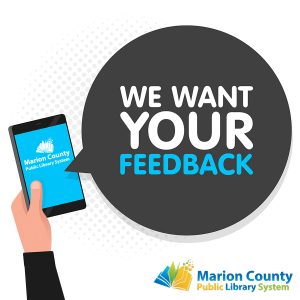 Every five years, the Marion County Public Library System devises a new strategic plan to help guide library decision making.
An important part of our strategic plan is you, the citizens of Marion County!
We want your feedback, so we've created a survey that allows you to let us know what we're doing well, how we can improve, and what you'd like to see us do in the future! To access the 2019 library survey, please follow THIS DIRECT LINK. Physical copies will also be provided at all of our locations in April.
We are so grateful for the opportunity to serve Marion County, and to continue to improve and expand our offerings in the years to come!