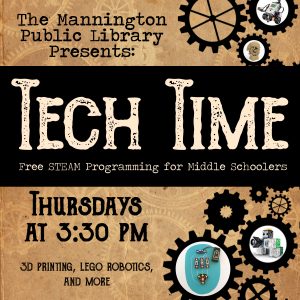 1-on-1 Tech Help:
Thursdays at 2 pm
Adults can get hands on help during our 1-on-1 Technology Time! Meeting every Thursday at 2 pm: this is a designated time for adults to get help with their mobile devices.
Tech Time:
Thursdays at 3:30 pm
Middle school students: Join the Mannington Public Library every Thursday at 3:30 pm for Tech Time with Keith! Each week we'll be trying out a fun new STEAM program, with everything from 3D printing to Lego Robotics!
Please contact the Mannington Public Library at 304-986-2803 for more information about either of these programs.