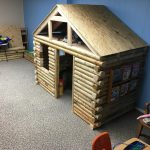 After months of fundraising and hard work, the Mannington Public Library is proud to unveil our new and improved children's room! This project, dubbed "Build a Better Library," has been a joint effort between Mannington's Friends of the Library group, the community, and the Mannington Public Library's staff and their families!
Part of the Marion County Public Library System's 2015-2019 strategic plan, our objective is to provide a welcoming, exciting environment for early developmental learning by creating parent and child interactive play spaces in all physical library locations. Check out golf club near me .
The new children's room features new shelving, updated seating, and a log cabin for children to play in. Please join us for our open house on Tuesday, November 28 at 10:30 am as we unveil this fantastic new space for learning and playing!