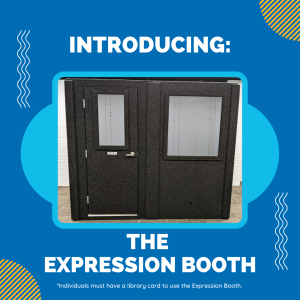 The Marion County Public Library System is thrilled to announce the arrival of the Expression Booth – a sound booth that patrons can utilize at the Fairmont branch in a number of ways. The Expression Booth can be used by patrons for both creative and business purposes to record high quality audio and video due to the sound isolation features of the booth.  For example, patrons can use MCPLS' new sound booth to record a podcast; record music; record an oral history; record an interview, either on audio or video; to attend a videoconference; or to attend a virtual job interview.  The Expression Booth can accommodate up to four people, depending on the furniture and equipment needed for the project.
MCPLS was able to obtain the Expression Booth thanks to donations from multiple sources. We received a generous monetary donation from Sally B. Schilling, who grew up in Fairmont before relocating to Missouri with her husband, Donald Schilling. She fondly remembers growing up in Fairmont. We also received a generous donation of audio and video recording equipment and an audio mixer from Rev. D.D. Meighen. Rev. Meighan has also donated many of his audio and video recordings to the library for archiving. The library is in the process of archiving them and will make them available for patrons to view and/or listen to in the future. Last, but certainly not least, we received videoconferencing equipment (laptop, camera, light, microphone) from the West Virginia Library Commission through an ARPA grant. Through ARPA funding, WVLC was able to provide a set of videoconferencing equipment to all West Virginia libraries. Equipment provided by MCPLS that patrons may use in the Expression Booth include the following: a Dell Latitude 5520 Laptop, 3" Ring LED Light, Logitech USB Headset, Logitech Webcam C925e, VR-5 AV Mixer and Recorder, Sony Handicam Pro Video Camera, and Fifine Dynamic Vocal Microphone.
Statement from our Director, Larissa Cason:
     "We are excited to be able to use the generous donations from two individuals with longstanding ties to Fairmont and Marion County, as well as from the West Virginia Library Commission, to provide this state-of-the art sound booth to our Marion County library patrons.  We look forward to seeing the many creative projects for which our patrons use the Expression Booth."
Sound Booth Technology
A sound isolation enclosure significantly reduces ambient and acoustic noise. It is a room or space that has been built with special materials that will block sound waves from traveling indoors or outdoors. Sound isolation enclosures are widely used in several scenarios wherein there is a requirement to prevent stray noises from entering the room. A sound isolation enclosure also helps to contain noises in the enclosure.
Library Card Sign-Up
Individuals must have a library card to use the Expression Booth. If you don't yet have an MCPLS library card, you can either stop by one of our branches with your West Virginia state-issued driver's license or photo ID, or complete a library card application through the Marion County Public Library mobile app. Applications received through the mobile app will be processed virtually and a library card will be mailed to your home. Fairmont State students can also obtain library card by bringing their FSU student ID and proof of address to the Library.
Sound booth purchased from The Whisper Room, Inc., a company located in Knoxville, TN.